Various weaving Accessories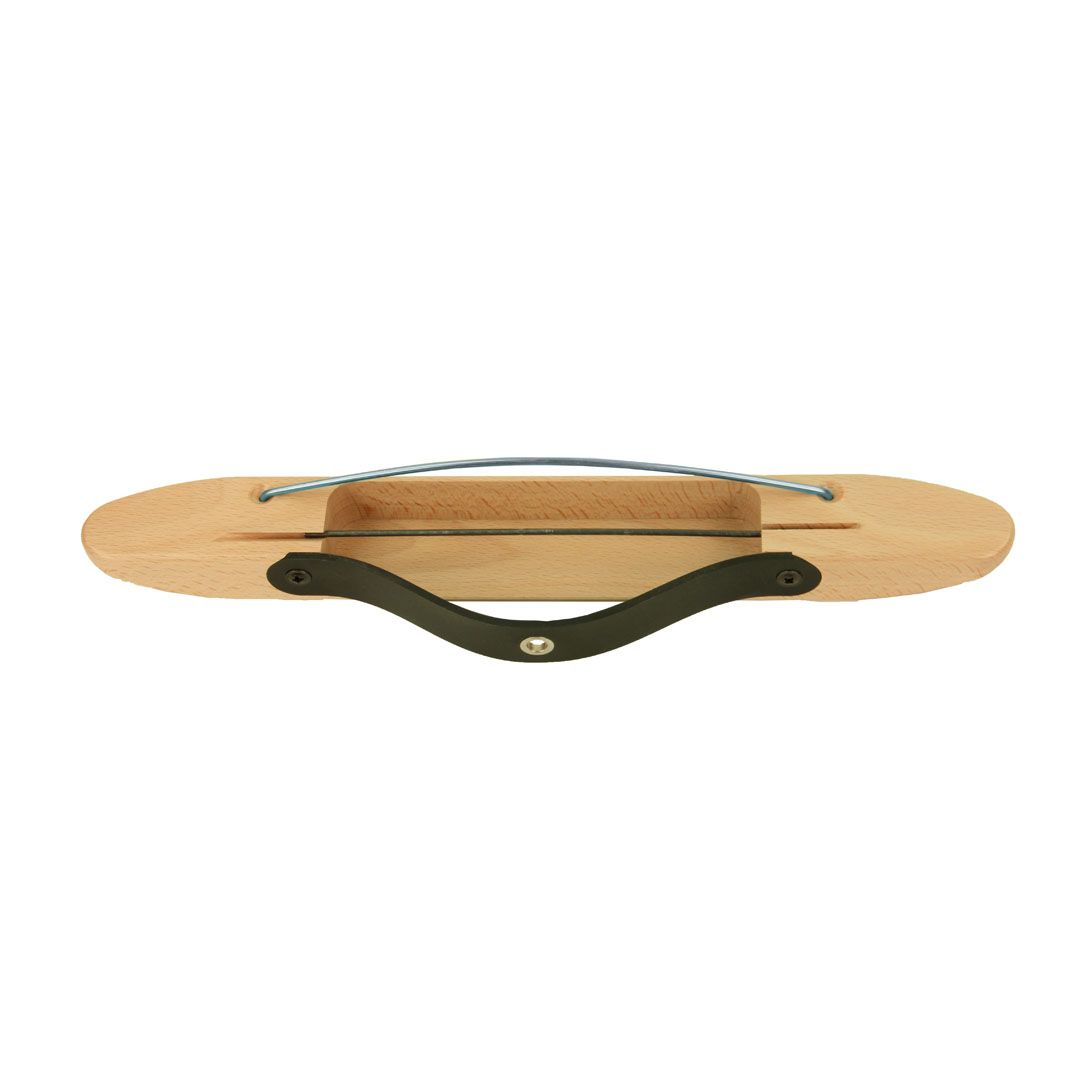 flying dutchman shuttle
Louet's unique boat shuttle. Both pins and plastic bobbins will fit on this shuttle
The bow in the front allows for a better angle for yarn to unwind from your pin or bobbin. The bow on top spreads any sticky warp threads as you throw your shuttle.
Item # WA0201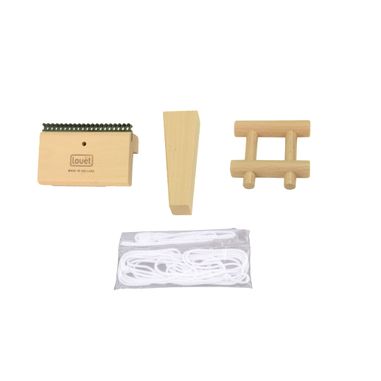 Aid for sectional warping
Attachment to assist in sectional warping - Link to Sectional instructions which include Aid to Sectional warping
Item # WA0282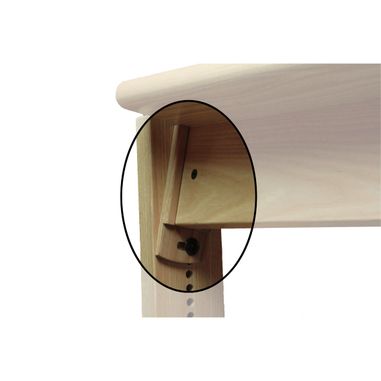 Bench tilting kit
This item converts the Delta, Megado or Octado bench to a tilting bench, allowing the seat to tilt from flat to an angle

Item # WA0139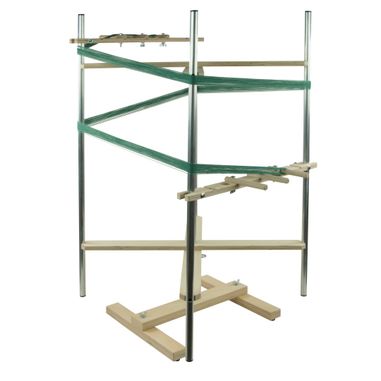 Vertical warping mill
This warping mill can hold a warp of 20-40 yards, depends on warp and yarn thickness. Rotates on a nylon bearing for smooth effortless rotation. Pegs are adjustable. Aluminum vertical poles are painted so they are very smooth Video demonstration
Item # WA0188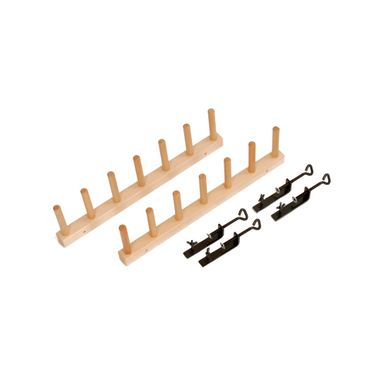 WARPING POSTS
Louet's warping posts are available lacquered and un-lacquered. They clamp to a table and by varying the distance between the two sets of post, you can make larger or smaller warps.
See how they work here
Item # WA0189 (LACQUERED)
Item # WA0301 (UN-LACQUERED)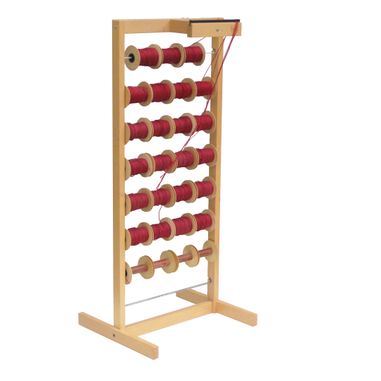 Bobbin Rack
Used in sectional warping, our bobbin rack can hold 32 bobbins. Rack includes bobbins.

Item # WA0190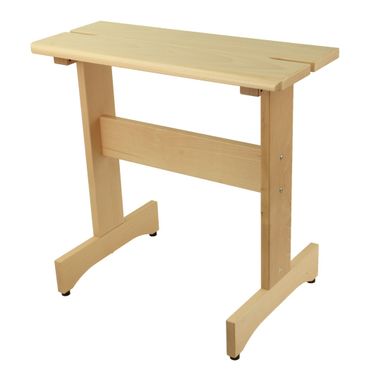 Loom Bench
Basic loom bench is recommended for our table looms, David and Spring. Made of solid beech

Item # WA0103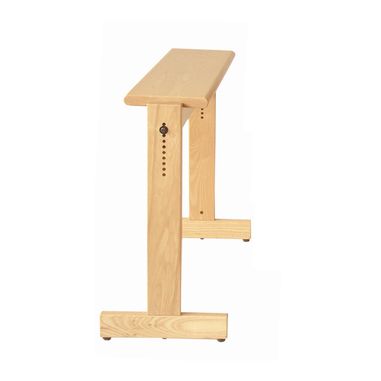 Megado/Delta Bench
Bench designed for the Megado and Delta looms. This bench is height adjustable from 23.5" to 27.5" and made of natural hardwood Ash
Item # WA0138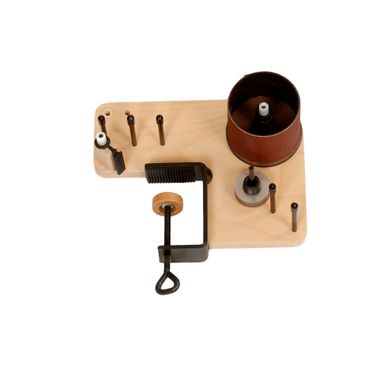 WARP tension regulator
Louet's warp tension regulator clamps onto the back beam of any Louet loom. Adjustable tension controls allow for good warp tension, regardless of yarn elasticity or texture. There is an optional counter available in metric or imperial measurement.
Item # WA0192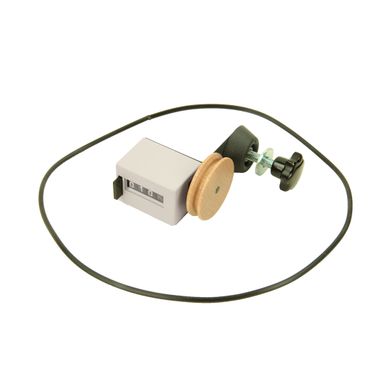 counter for warp tension regulator
Optional counter for the Louet warp tension regulator available in imperial or metric measurement.

Item # WA0194 (imperial)
Items # WA0193 (metric)
Hooks
Stainless steel reed hook with ruler
Red Texsolv plastic reed hook
White plastic reed hook
Item # WA0209 (Steel)
Item # WA0187 (Red)
Items # WA0208 (White)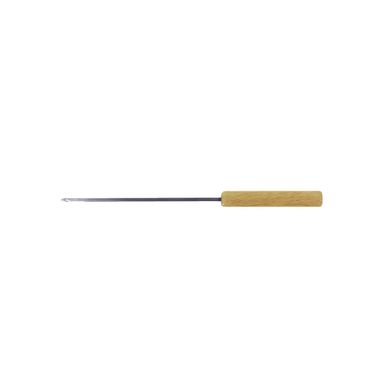 Heddle hook
Long steel heddle hook with wooden handle
Item # WA0207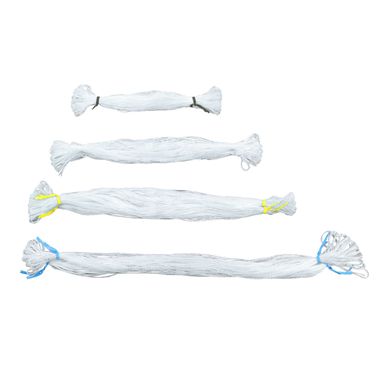 Texsolv heddles
150mm heddles for Erica (red tie)
205mm heddles for Jane/Magic/Klik (black tie)
280mm heddles for David (white tie)
330mm heddles for Octado/Delta (yellow tie)
392mm heddles for Megado/Spring (light blue tie)
Item # WA0303
Item # WA0215
Item # WA0216
Itesm # WA0217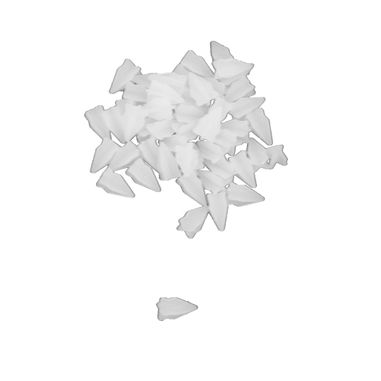 Texsolv spacer pegs
These spacers are placed in the loop of a piece of texsolv. Each peg shortens the texsolv cord by 1mm. The David and Megado looms use these spacers to adjust cord tension. A pack has 50 pegs

Item # WA0222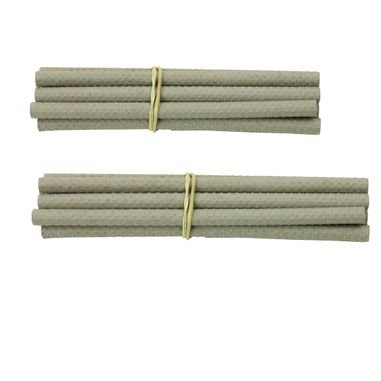 Paper quill
Used with the Louet bobbin winder - quills for Louet shuttle.


Item # WA0205 (5")
Item # WA0206 (6")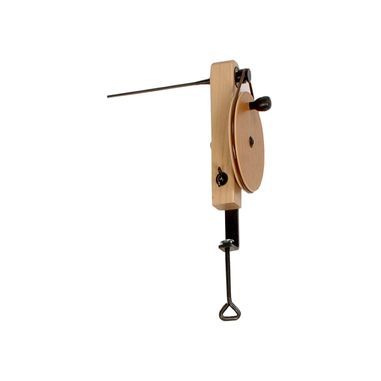 Hand bobbin winder
Louet' Hand bobbin winder clamps to a table. The shaft is tapered to accommodate different size quills or bobbins
Item # WA0207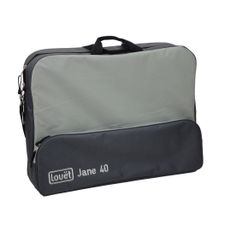 Jane Carrying Bag
Heavy duty padded carrying bag with a large front pouch. Strong zipper and carrying handles on top. Shoulder strap also included.

Item # WA0106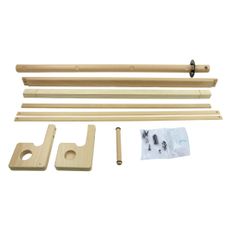 2nd warpbeam
There is a second warpbeam available for all three sizes of Jane loom. Warp beams can also be moved to the optional floor-stand to increase capacity, however the loom does not fold nor separate from the floor-stand when a warp is in place.
Item # WA0105 (J40)

Item # WA0352 (J50)

Item # WA0108 (J70)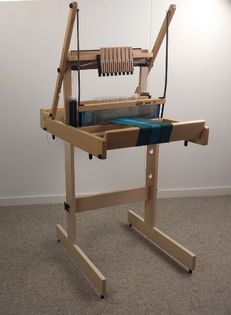 Jane Floorstand
Optional floorstand for all three sizes of Jane loom. Easily disassembles for simple storage or to take to a workshop.

Item # WA0104 (J40)

Item # WA0351 (J50)

Item # WA0107 (J70)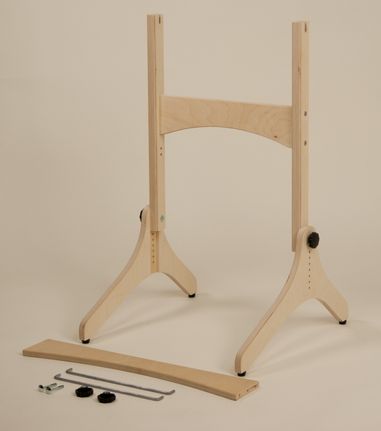 erica floorstand
Erica floorstand kit includes parts for either 30cm or 50cm Erica loom. This stand can adjust in height and easily assembles/disassembles for weavers taking their Erica to workshops

Item # WA0304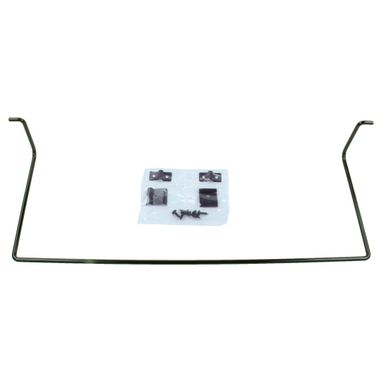 Swinging Beater Kit
Klik loom's original versions had a loose beater and this upgrade kit gives you the swinging beater currently delivered with new Klik looms

Item # WA0106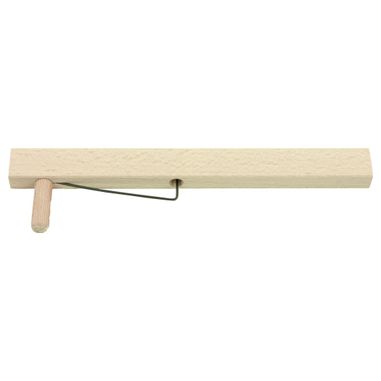 Klik Extension
Klik looms are 4 harnesss looms that can be expanded to 16 shafts in increments of 4 shafts. This kit is a 4 shaft extension.


Item # WA0100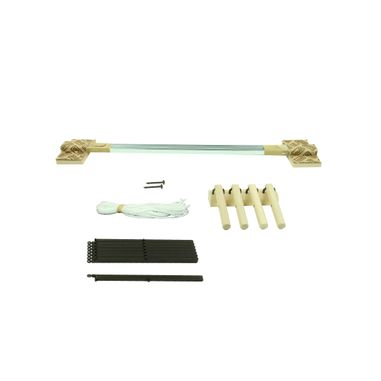 Kombo extension
This is a kit to expand a 4 shaft KOMBO loom to an 8 shaft KOMBO loom. The KOMBO is the predecessor to the Jane loom and stopped being produced around 2005

Item # WA0101 (K40)

Item # WA0102 (K 70)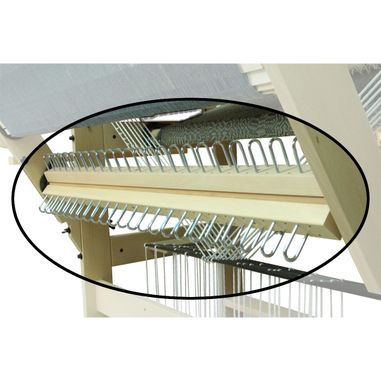 Sectional kits
Sectional kits are available for David, Spring, Delta, Octado,Megado looms. Louet's sectional kits are wooden slats that attach to existing warp beams. Clips are separated in 1 inch or 2 cm increments (can be ordered in imperial or metric). Remove every other clip to have a 2" sectional warp kit.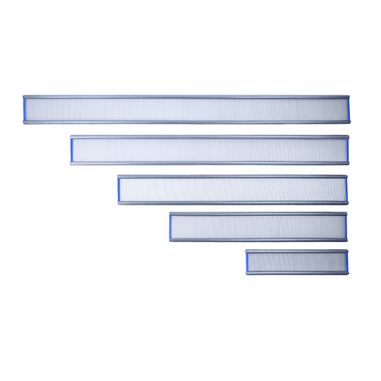 Reeds
Reeds sold in North America fall into two categories - Metric and Imperial.
Imperial reeds - 6, 8, 10, 12 and 15 dent reeds are available in all weaving widths (30cm, 40cm, 50cm, 70cm, 90cm, 110cm,130cm) These reeds are sourced in Quebec Canada and have hard plastic top and bottom with stainless steel dents. These are very high quality reeds
Metric reeds are the same offered by Louet world wide and sourced in Sweden. 20-10, 30-10, 40-10, 50-10, 60-10, 70-10, 80-10, 90-10 and 100-10 are the available sizes and all are available for the same weaving widths as listed above.
All Louet looms come standard with a 40-10 metric reed, which is approximately 10 dent.
Item # vary