New S10C and S17 features
New S10 and S17 features
Louët is always thinking of how to improve our products. The recent releases of David III and Spring II are good examples. In the past year, Jan Louet has been working on some improvements to the S10 and S17 with remarkable result:
A new bearing system for the orifice, resulting in a better adjustment of the take up.
A heavy take up when you are spinning on an empty or almost empty bobbin is always evident in a bobbin lead spinning wheel (Irish tension), even without use of a brake band.
This strong take up in a bobbin lead spinning wheel occurs particularly at higher rotation speeds of the flyer. Even if you release the brake band completely, the air resistance slows the flyer resulting in too heavy a take up for a very fine yarn where you needed that higher speed.
The air resistance at high speed is less of a problem with Scotch tension (flyer lead) because the bobbin has less surface area which results in less air resistance.
The S10 improvement is that it has a new nylon bearing support for the orifice that gives less friction than the brass bearing support. The original brass bearing system is a bit of a dirt catcher and the rotation of the orifice was not always as smooth, both creating more friction.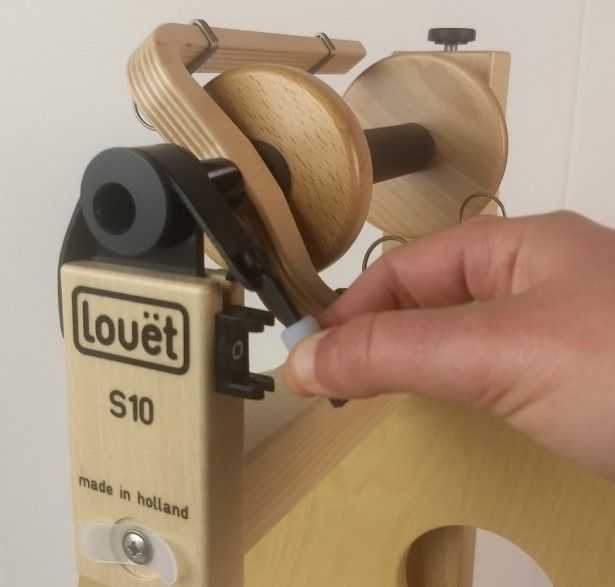 In the new system the orifice has a grove that fits the nylon support. While we have already started delivering S10 wheels and flyers that have these orifices with a groove, they still fit the older brass bearing support, while fitting the new orifice too. You can see the groove more clearly in the picture below.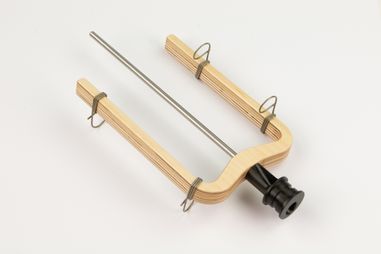 The front plate of the mother-of-all is redesigned for this new system. We have added a simple plastic catch to give spinners a place to fasten their yarn so it does not unravel. Simple but effective! (Shown in the first picture above)
A new flyer with new sliding yarn guides. This flyer has less air resistance (as mentioned above), but more important; this flyer is more in balance than a flyer with hooks.

New IrT standard flyer Product # SA0151 - replaces SA0124 (also available unlacquered for the S17 SA0150) - features new sliding hooks and office. NOTE: Orfice is backward compatible with all older Louet IrT wheels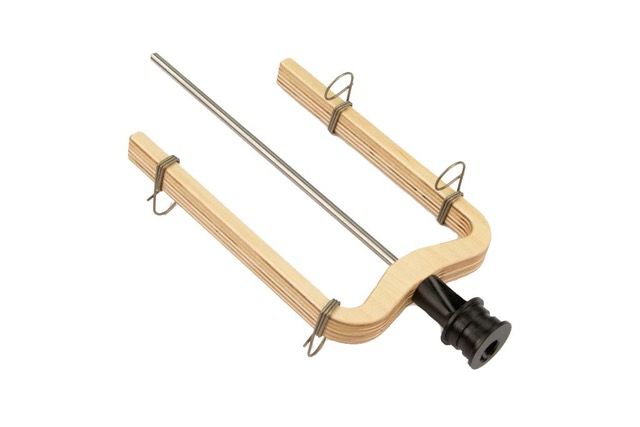 Some spinners prefer hooks because you don't have to thread the yarn through them; however, yarn can easily be slipped in or out of the new sliding guides and the eye of the guide is closed, no fear of yarn slipping out.
Many spinners use the hooks on a flyer too lead the yarn in a zigzag across the flyer, to get less take up. That can be done with the new sliders too, if you attach them opposite each other. Flyer balance is impacted in VERY minor way.
The new sliders do not move on their own and they will not lose their grip over time. They are snug, yet slide easily enough when needed. The guide holes are large and smooth


ScT flyer with new sliders shown below - Product # SA0152 - this replaces SA0127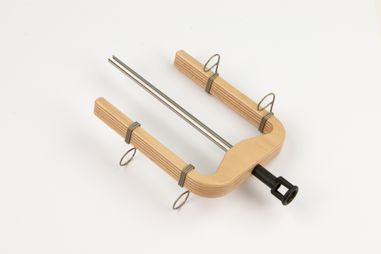 There is also a new Art Yarn flyer, adapted to the new orifice bearing. It is in better balance, simpler and less expensive. It has the same system of yarn guides, but with larger eyes and a nylon center that is rounded inside.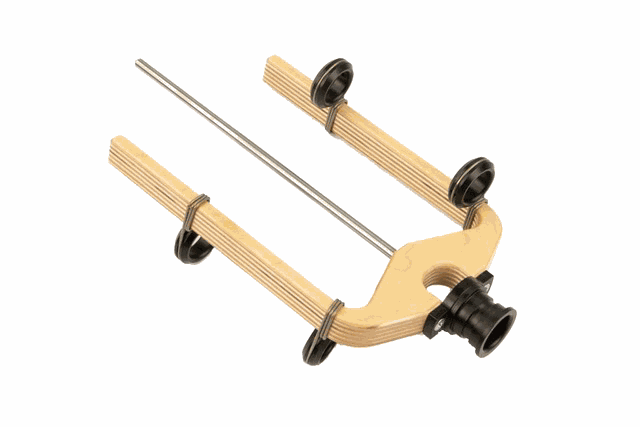 At Louet, we are continuously looking at product improvement. If you have an idea, send us a note in our support line - support@louet.zendesk.com