Table & frame Looms
The best table looms on the market for all budgets. Erica is the perfect transition loom from Rigid Heddle weaving
Jane Table Loom
The Jane table loom is the best table loom on the market! It is available standard with eight harnesses and the following weaving widths:
40 cm (15 3/4")

50 cm (20") and

70 cm (27 5/8")
Jane can be folded down compactly to 14cm (5 1/2") high. A floor stand is available separately. Jane has been designed after consultation with one of our top retailers, Jane Staford, and of course Jan Louet's tremendous design skills, at the same time using successful techniques from its predecessor, the Kombo. There is no cord wear, since cords run over rollers and the overhead beater stays out of the way when throwing the shuttle. Jane is made of lacquered beech and has a built in raddle. The loom is partly assembled and comes with:
stainless steel reed 40-10 (metric), 200/300/400 Texsolv heddles (205 mm)
tie-up sticks, leasesticks , sixteen warp sticks
Dimensions (w x d x h):
Jane 40 - 57 x 75 x 65 cm (22 3/8" x 29 1/2" x 25 5/8"), folded 14 cm (5 1/2") high.
Jane 50 - 67 x 75 x 65 cm (26 3/8" x 29 1/2" x 25 5/8"), folded 14 cm (5 1/2") high.

Jane 70 - 87 x 75 x 65 cm (34 1/4" x 29 1/2" x 25 5/8"), folded 14 cm (5 1/2") high.
Weight: Jane 40 - 10.5 kg (23 lb), Jane 70 - 14 kg (31 lb).
Features:
Great Shed

Large Weaving Area

Standard 8 shafts

10 dent reed included (metric)

Cords run over rollers to reduce cord wear

Texsolv heddles

Great warping instructions

Overhead beater that stays out of the way when throwing the shuttle

Beater flips out of the way for easy threading

Folds down easily even when fully dressed

Locking mechanism holds it closed

Carrying handle for "grab and go" (40cm and 50cm only)

Very portable at only 23lbs and 5.5" high when folded

Exquisite craftsmanship

Stand and bench available as options
Accessories available for purchase separately:

Bench - height 57 cm (22 3/8")

Floor stand

Second warp beam with back beam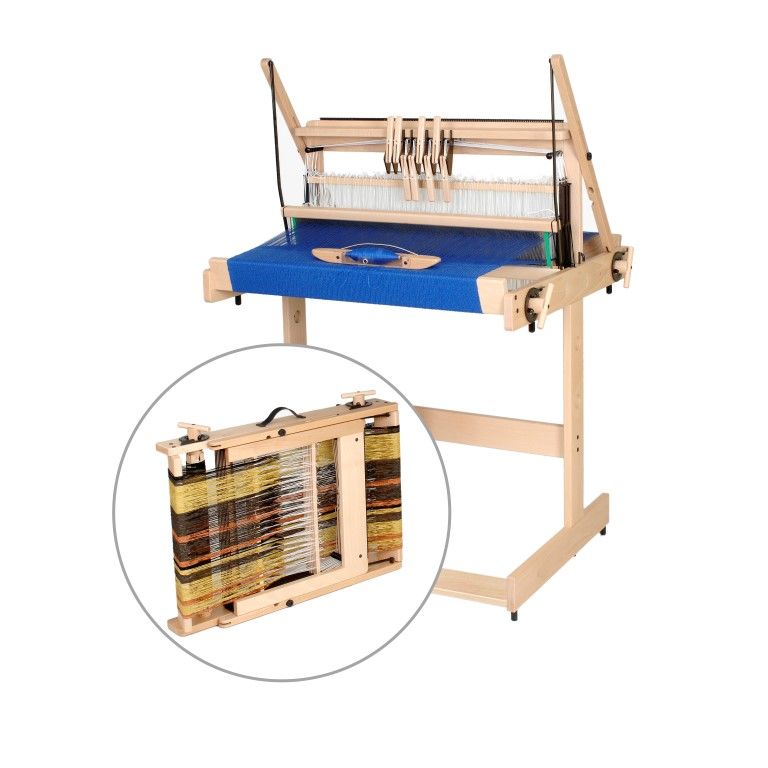 An easy-to-use, travel table-loom at a reasonable price. Erica is a compact member of the Louet family that packs in all the features you love about a full-size loom in a small, portable footprint. The Erica is perfect for people learning to weave, those wanting to upgrade from a rigid-heddle loom or those that want to have the capabilities of a high-quality travel loom. Compared to a rigid-heddle loom, it is easier to operate, the warp tension is more even, it has a large shed of 4.5 cm (1 ¾") and you have flexibility in the number of threads per cm.
Starting as a 2-harness loom and expandable to 4 harnesses, this is a terrific loom at a reasonable price. The warped loom folds flat, so you can easily take it to class or on vacation, or fold for storage in small spaces.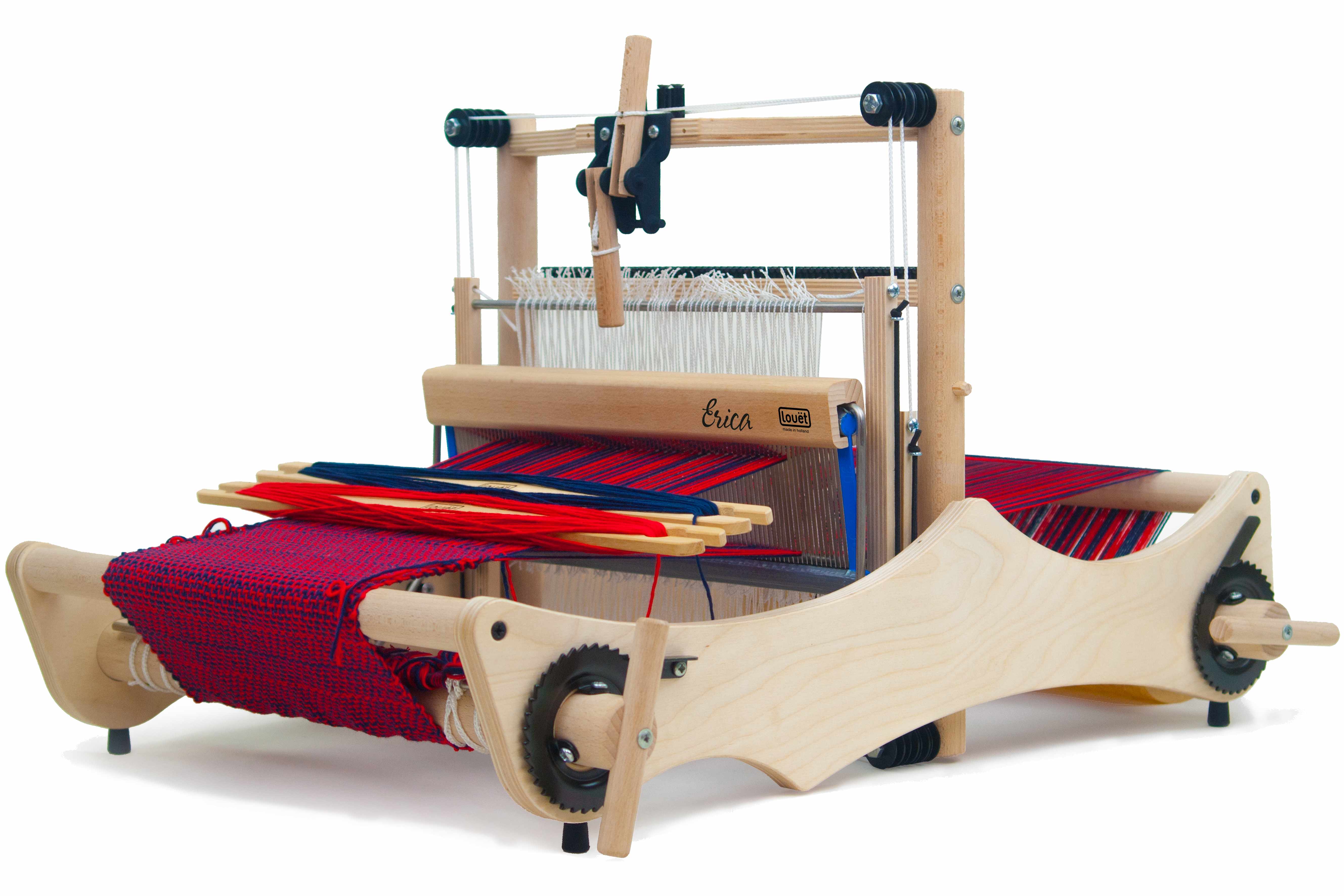 Klik is a 4 harness loom that expands to 16 shafts. This is the least expensive 16 harness loom on the market for sure. Klik is named for the distinctive kliking sound each harness make as it klik back into place, either raised or lowered.
Dimensions:
22 3/4" x 30 3/4" x 8 1/2"
Weight: 15.4 lb
The klik requires manual manipulation of each harness on each pic, so it is a slow process when weaving. Having said that, many weavers swear by it for a 16 harness sampling loom. Optional bench, floorstand, and 2nd warp beam are available.
Klik is very suitable for workshops, sampling or teaching new weavers. The harnesses are raised Independently by manually lifting the handles at the sides until the little springs click out. The harnesses fall back into place when the springs are pushed back in.